22 December 2010, by Edmund Tay
Recently, I heard a few horror stories about pre-schoolers with cavities and root canal infections. And mind you, these are kids with responsible parents who believe in the importance of maintaining oral hygiene!
We got worried cos none of our kids have visited THE dentist. And we know their first visit should have been at 1 year old. So we asked around for good recommendations–a gentle, kind, gentle, patient, gentle and very gentle dentist who loves kids.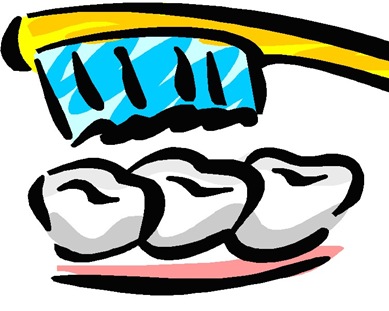 We made the appointment and started the Steps to Overcome the Dentist (SOD) version Ed-unloaded.
Step 1 — Talk about the Dental Visit like a visit to a new place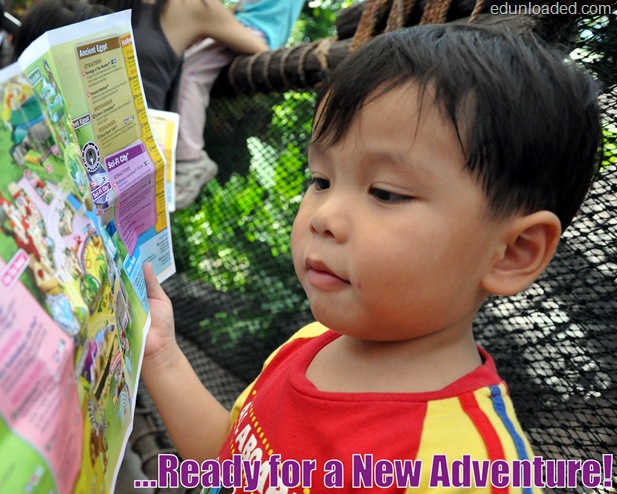 e.g. East Coast Park, Airport, New Playground, Field trips etc.
See it this way: You won't tell your child to be BRAVE when going to the Yakult Factory right? You also won't say things like "Don't be scared of the sand when you step on the beach!" or "If you don't behave, Mummy will bring you to the Playground!"
We realised a Dentist is as foreign to them as an Aeroplane or Electrician. The words we use and the way we describe the Dentist creates a perception before the child enters the clinic!
Step 2 — Elevate the Dentist's role to a Saviour who finds worms in your mouth
haha… we figured we must give an incentive to the kids why the Dentist is poking instruments and equipments in their mouths! A sample script: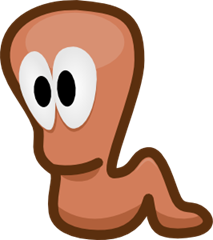 The Dentist is a very clever doctor who can find out if you have worms hiding in your mouth!
When you see him, you have to open your mouth WIDE and let him peep inside.
He uses a little metal stick and knocks on your teeth (knock knock) to check if there's a worm hiding. [here, we ask kids to open their mouth, we use our clean fingers and knock on their teeth!]
Then he uses his special toothbrush to help you clean your teeth so that no worms wants to stay there.
Who wants worms in their mouth??? YEEEEEEEEEEEE
Step 3 — Role play Dentist+Patient with kids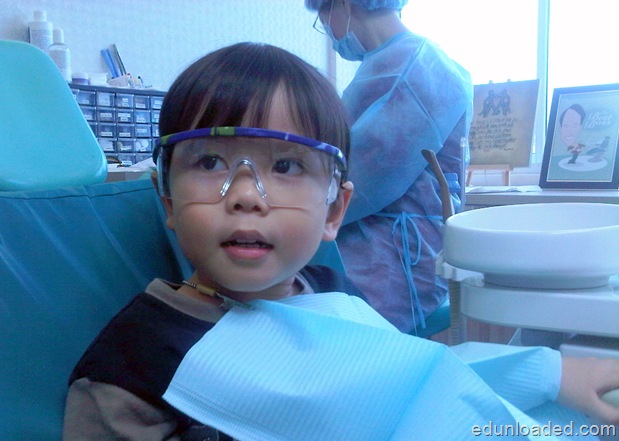 (Photos taken with BlackBerry —  my apologies if they are not as sharp)
Take turns to be Dentist. Ensure the patient always lies down, always opens mouth WIDE and allows a teaspoon to poke around.
.
.
.
.
.
So Did it work?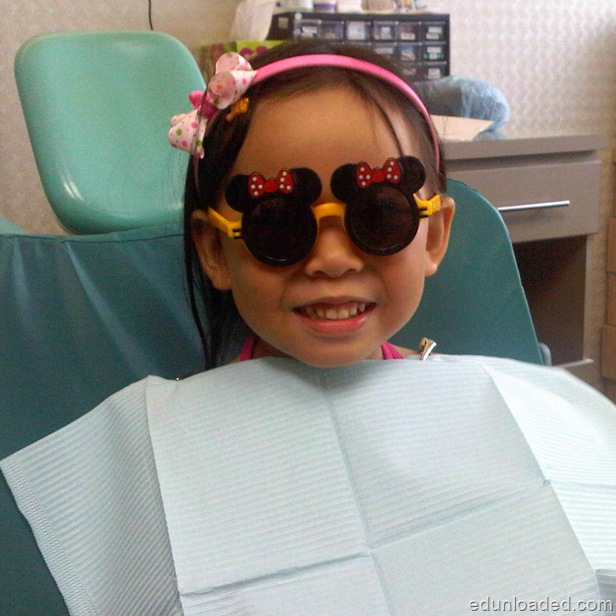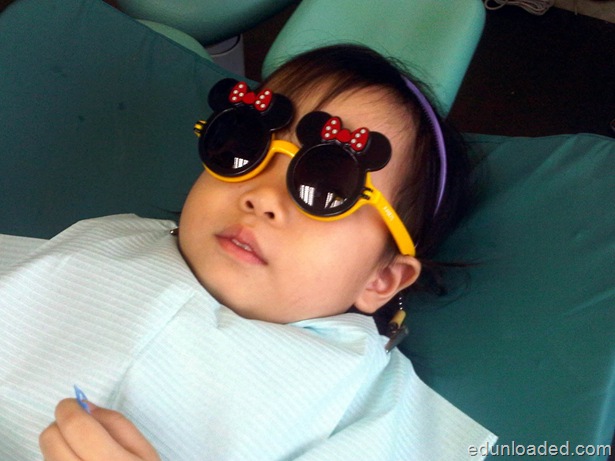 It certainly did! All three kids were excited and ready to go to the Dentist. All of them didn't finch when the Dentist chair was lowered. And my proudest moment? When the Dentist said, "I'm going to check your teeth", ALL of them open their mouths WIDE for a whole lot of poking and checking!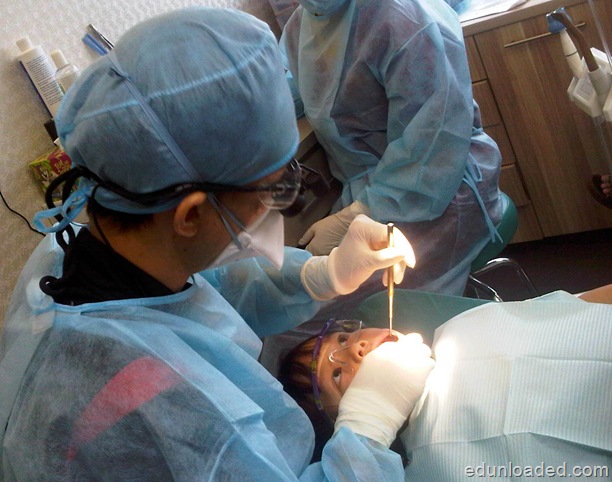 Of course through it all, we heaped loads of praise like "So clever!", "What a Good girl", "Look at that big mouth!". We had to be very conscious not to say "So BRAVE!" cos we didn't want them to ever think that they even need to be brave for a dental visit.
But we have to give special credit to the Dentist Dr. Isaac too! He was so so patient, and so so gentle, and he explained everything clearly to each child before embarking on the next step!
The great thing about a child-friendly dentist is that they have lots of equipment to help them with children. Besides the stickers….he had another essential piece of apparatus.
The TV set that was fixed above the patient!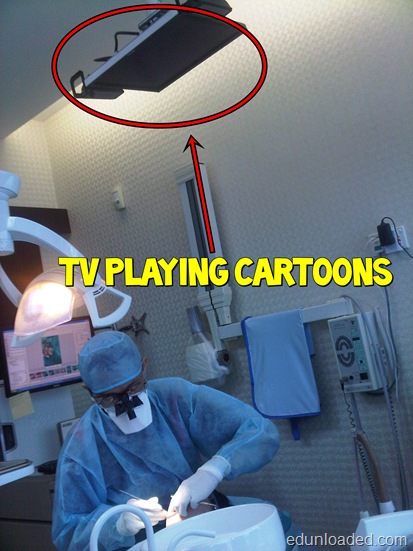 Did the kids pass their Dental Check?
I'm not sure if he says this to all his patient, but he said Nicole was on her way to be his best patient ever, Nathan is the most amazing boy ever cos he had his entire set of teeth scaled and cleaned in his first visit, and Nadine is the best 2yr old who would allow a dentist to check all her teeth without crying! So with much confidence, my advice for Pre-Dental visit prep work: Try the SOD! It works!

Oh! And the kids got an All-Clear for their teeth! Clean and Healthy, no worms!
So if you planning to send your kids to the Dentist….It's not that bad! 🙂
ED Blogs regularly at ED UNLOADED.com